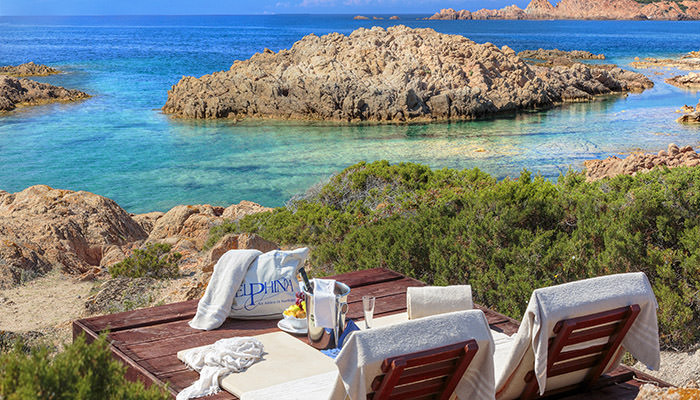 Sardinia travel offers. Holiday packages for Isola Rossa
The Hotel Torreruja will bring you to Sardinia with its holiday packages for all the family and its offers with Hotel + Ferry and Hotel + Flight included.
Organizing your holiday in Sardinia has never been so easy and convenient. Whether you're travelling as a couple or with friends, you're looking for comfort, services and of course, savings. The Hotel Torreruja at Isola Rossa is the ideal place for young couples and families who want to spend an unforgettable holiday by the sea and with our Sardinia holiday packages, you can have all this with no stress and at the best price.
Just think that the Hotel Torreruja hotel + ferry holiday package includes a week at a 4 star superior hotel, with breakfast and dinner included. What's more, the return ferry trip to Sardinia complete with car is included in the offer!
If instead you want to fly, thanks to the wide range of flight routes operating from Olbia Airport, the Hotel Torreruja can work out a personalised offer for you for Sardinia with flight included.
Choosing the "Relaxing" hotel from the Delphina Hotels & Resorts collection means that once you arrive on the island you can enjoy romantic and rejuvenating holidays in a dream setting.
The Hotel Torreruja is an oasis in the heart of Isola Rossa which is bathed every evening by fiery sunsets that are reflected in the crystalline sea of the Golfo dell'Asinara. A hideaway dedicated to peace and quiet with the elegant Venere Thalasso Centre & SPA where you can rediscover your natural form and balance. In addition, the secluded wooden platforms among the rocks by the sea will guarantee you moments of tranquillity and privacy while looking out over unique views. Don't miss the boat trips that leave from the harbour at Isola Rossa for the rugged coastlines of Corsica, Lavezzi and Cavallo.
This hotel in Costa Rossa is the ideal starting point for anyone who wants to enjoy the most beautiful beaches in Sardinia and also discover the Gallura inland area with its ancient granite towns and the culture and traditions of an island that always provides surprises and unexpected sensations.
Contacts
Phone: + 39 0789 790318
Mail: prenotazioni@hoteltorreruja.com